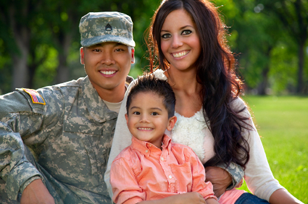 A VA loan is perhaps the most powerful and flexible lending option on the market today. Rather than issue loans, the VA instead pledges to repay about a quarter of every loan it guarantees in the unlikely event the borrower defaults. That guarantee gives VA-approved lenders greater protection when lending to military borrowers and often leads to highly competitive rates and terms for qualified veterans.


Benefits of VA Loans
Far and away, the most significant benefit of a VA loan is the borrower's ability to purchase with no money down. Apart from the government's UDSA's Rural Development home loan and Fannie Mae's Home Path, it's all but impossible to find a lending option today that provides borrowers with 100 percent financing.
VA loans also come with less stringent underwriting standards and requirements than conventional loans. In fact, about 80 percent of VA borrowers could not have qualified for a conventional loan. These loans also come with no private mortgage insurance (PMI), a monthly expense that conventional borrowers are required to pay unless they put down at least 20 percent of the loan amount.
VA loans offer a few other bells and whistles:
Competitive interest rates that are routinely lower than conventional rates

No prepayment penalties

Higher allowable debt-to-income ratios than for many other loans

Streamlined refinancing loans that require no additional underwriting
Apply Online
Don't Wait! Find out about your options Today!
"Don was professional and kept me informed throughout the process. I never felt any pressure to take a specific mortgage product. I was informed almost daily of rate changes, so I could make an educated decision of when I should lock in. The closing was handles in my home during the evening. Job well done!"

"Don and SunMortgage refinanced my home, from start to finish, in just about 3 weeks. The entire process was smooth and extremely transparent. Don and SunMortgage will be the only company I call if I ever need another mortgage."

"I choose don because patience and kindness he processes after contacting him 5 times before I start to use his service. It turns out to be a great choice I made during the process. It is our first time to purchase the home. With him, complex and time consuming process of financing has become a simple ,easy and enjoyable step for us. It has been a pleasure to work with Don on it. I highly recommend using don's service."